10M, TRINITY … I can't operate without these units now.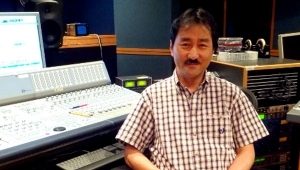 I was told that the 10M was the most precise clock for sound production. The need I had was for a device to draw out the natural character of the sound that I knew was there from the "muddiness", without changing its essence. Quite frankly, after installation of the 10M rubidium clock, it flawlessly brought out the solidity and purity of the sound, and even more so in conjunction with the TRINITY and the ECLIPSE. In 5.1CH surround-sound live-recording mix with an orchestra, I was astonished at the difference and vivid presence they created. I can't operate without these units now.
Yoshiyasu Kumada
Sound Producer/Engineer
Recording Department – Hibino Corporation Sound Division
44th Grammys Awardee (2002) – Best Pop Instrumental Album
Performed by Larry Carlton & Steve Lukather
Released by Steve Vai's "Favored Nations" Label
//www.hibino.co.jp/english/service/sound.html
Yoshiyasu Kumada has significant experience as a recording engineer for large concert events, and is renowned both at home and abroad. "No Substitutions: Live in Osaka" is a live album by Larry Carlton and Steve Lukather – released in March 2001 by Steve Vai"s Favored Nations label. Yoshiyasu Kumada was in charge of the live recording performed at "Blue Note" Osaka in 1998 and won the Grammy as an engineer engaged in the production of album.