…this is the best clocking device we have ever heard.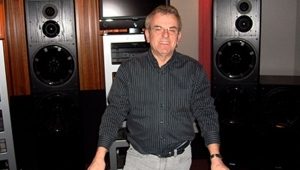 We have demo'd the Atomic Clock after hearing about it. I must say I was quite impressed with the results. The sonic transparency, depth and definition resulting from the test were very apparent.
Blind A/B tests proved to me and to all of our engineers at Universal Mastering Studios that this is the best clocking device we have ever heard. Not too many gadgets in this field impress me after all these years in the business, but this was impressive.
I am proud to say that as a result of our tests we now have all of our mastering rooms, in both the NY and LA locations, equipped with the Isochrone Trinity High Definition Master Clock and Isochrone 10M Rubidium Atomic Clock.
Vlado Meller is a Senior Mastering Engineer at Universal Mastering Studios. He is a 30+ year veteran mastering engineer, who began his career at Columbia Studios in 1968. When Sony Music took over CBS in the 1980's, Vlado remained and was an integral part of the studio operation until the studios were closed in 2007.
Some of the artists that Vlado has worked with include Kanye West, Red Hot Chili Peppers, Lil' Wayne, Harry Connick Jr., T-Pain, Celine Dion, and many others.
He is a two times Grammy Award Winner and 10-time nominee