Then I groaned, because once I heard it I knew I had to buy one!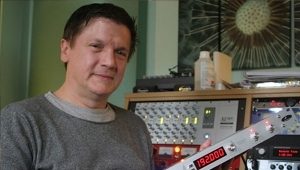 I've used other clocks in the past and it's good to know that everything is synced but never noticed any real difference in sound quality. When I was mastering the new Underworld album with Miles at Metropolis he recommended the Antelope clocks as Metropolis recently purchased 6x Antelope Audio Trinity clocks and the 10M Atomic Clock from Unity Audio, and that I should check them out.
I had a mix running at my studio, which was sounding good and when I hooked up the OCX and hit external on my SSL Alpha link interface I noticed an immediate difference. Imaging became wide and clear and the bottom end seemed tighter and more defined. In the top end a clearer more focused sound.
Then I groaned, because once I heard it I knew I had to buy one! I'm also looking forward to the difference a 10m would make!
Simon is one of the UK's leading mix engineers. Over a career spanning 23 years he's worked with a wide range of the world's top selling recording artists. In 2006, he was awarded a Grammy for his work on the U2 album "How To Dismantle An Atomic Bomb" which won the coveted "Album Of The Year" award. In 2007 Simon opened his own SSL equipped production and mix room, Hub II.
Recent mix projects include the "Barking" album, a Manic Street Preachers remix and the Danny Boyle directed NT production of "Frankenstein" with Underworld, various N-Dubz tracks including "I Need You" and Athlete's "Somewhere Beneath My Skin".