I could not believe that a clock alone could make such a big difference in sound quality!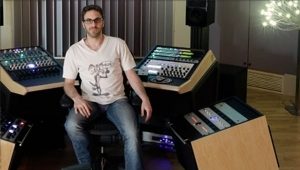 "Having used to work with many of the best converters in the world, usually means having the best clocking technology and the most accurate jitter rejection available inside them, but when I had the chance to make a real test of the Antelope Isochrone clocks – and specially their unique 10M Rubidium Atomic clock – the results were eye opener!"
"I could not believe that a clock alone could make such a big difference in sound quality (definition of instruments, soundstage and position and even low end punch!)… For me, the Atomic + Trinity combo is a must have for anyone wanting to know what's really happenning to their music."
Nick Litwin – Director and Chief Engineer – has 24 years of experience in the audio business and more than 17 years of experience mastering in countries such as Argentina, Spain and the UK – where he spent several years perfecting and investigating in this field and working with a huge variety of artists, besides graduating in Recording Arts at Middlesex University in London, until he decided to settle definitely in Madrid.
Up to this day, Nick have mastered close to a thousand albums, EPs, singles, vinyl recordings and various references, from which around 600 were mastered during the last 5 years at Mastering Mansion Madrid, largely exceeding the barrier of 100 mastered references during the same year, starting in 2008, tendency that keeps growing since then.
Mastering Mansion is the biggest Mastering Room in Europe and the only one in the world built entirely from scratch.
Right from its beginnings in Spain 8 years ago Mastering Mansion became the example to imitate for the rest of the Mastering industry, mastering all kinds of music and for all kinds of customers (from the most important record companies, such as Sony-BMG, EMI, Warner and Universal, up to demos and self-produced albums received from all over the world, including Spain, Portugal, UK, USA, Norway and many latinamerican countries, like Cuba, Venezuela, Colombia, Mexico, Argentina, Uruguay, Brasil, Puerto Rico and Dominican Republic), with the best room and equipment available on the market, besides the best mastering professionals.