The first thing I thought after hearing the OCX-V & 10M was how could I not have this. It made a great environment so much better.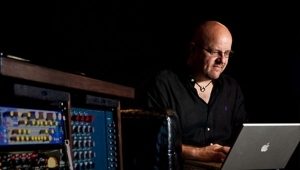 Matthew is a recording and mixing engineer. He began his carrer as an entry-level position at the then-startup jingle production company JSM Music. Both the job and the company experienced sudden exponential growth, and Matt became JSM Music's chief technical engineer, not only managing the facility, but designing and overseeing more than $5 million in the construction of four fully-functioning world class studios and more than a dozen MIDI production suites.
At the same time, Matt's freelance mix engineering career kicked off with his friend and mentor, producer Ben Wisch, working with such artists as Marc Cohn and David Wilcox. He continued to build an unthinkably diverse portfolio of jingles, and the necessary technical experience for everything from a hip-hop track for Budweiser, to the recording of a 60-piece orchestra for Visa. It was an album for Austin, Texas singer-songwriter Gina Fant-Seaz that would be Matt's first co-production.
Then came a fateful request to spend a weekend setting up a ProTools system for Lenny Kravitz. Kravitz's tech support group was actually unaware that they would need someone to run it after set-up. When Kravitz himself arrived, he greeted Matt as "Mr. ProTools wizard?" and what was at the outset a four-day booking became a ten-year friendship and collaboration that has encompassed four consecutive Grammys for Best Male Vocal Performance – Rock, and sales of over 20 million records worldwide – so far.