Clearer tippy top, better bottom, wider image and generally more detail.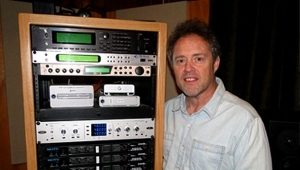 I enjoyed the Antelope OCX for the last couple of years and when I bought it I noticed a huge change in the quality of the sound in my studio.
Not being more technical than I have to be, I cannot describe my newly purchased Antelope Trinity in words other than: Things just sound better….again! Clearer tippy top, better bottom, wider image and generally more detail.
A good clock is to any working composer's studio what a good bow is to a good violin, they need each other. Thank you Antelope folks for the best oven that's not in my kitchen.
Jay Gruska got his first recording contract with ABC Dunhill Records while in his third year of college as a music major at UCLA.  It began a career that has included the release of two additional albums as a singer/songwriter for Warner Brothers Records, writing several hit songs for other artists that have charted #1 or Top Ten in BILLBOARD Magazine in virtually every category including POP (Top Ten), Adult Contemporary(#1), Country (#1) and Dance charts (#1), composing multiple EMMY and GENIE (Canadian Academy Award) nominated music for Film and Television shows seen in over 40 countries, and writing scores for theatrical musicals.
As a result of his eclectic music background, Jay has morphed musically from project to project. This ever changing musical landscape is the quality he likes most about the work he's been privileged to enjoy.  While spending over 15 years as a staff songwriter with either Screen Gems EMI, Geffen Music or MCI Universal, Jay shifted seamlessly from pop music to film and TV scoring and he once enjoyed a #1 movie (U.S.A.) "Mo' Money", a Top Ten hit on the pop charts "Good For Me" by Amy Grant, and a hit TV series with an EMMY-nominated theme "Lois And Clark:The New Adventures of Superman" within a period of a year and a half.
While composing music for almost 500 hours of TV dramas and movies, he has also co-written the scores for three musicals in various stages of development, "Being Ernest"  a musical version of "The Importance of Being Earnest" by Oscar Wilde, "Lucky Break" (based on the movie THE FRONT starring Woody Allen) and  an original work,  "The Last Pagoda".
A memorable moment in his songwriting career was when "Friends And Lovers"  achieved 2 simultaneous single releases by 4 different artists (two duets), which rode to the top of 3 charts – Adult Contemporary(#1)  – Country(#1) and Pop(#2), and for which he received four ASCAP Awards for 'Among Most Performed Songs' two years in a row.