OCX-V is the core of my studio setup.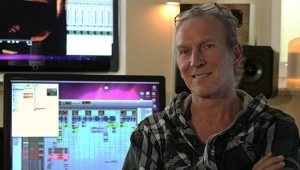 During the search for a masterclock for my five computer systems with tons of sounds and video data, I checked out the Isochrone OCX-V. As a film composer, I use external hardware as well as internal plug-ins on different systems simultaniously, so all DAWs, effects and sound modules have to be 100% in sync during the complete recording and mixing process – and that works out perfect!
Gerd composed and produced over 300 songs and scores for different movies, documentaries and German TV shows like "Heiter bis tödlich", "Tatort", "Sesamstraße", "Schwarzwald-Geschichten" including artists like Anke Engelke, Dirk Bach, Reinhard Mey, Udo Jürgens, Jan Delay, Barbara Schöneberger, Annette Frier, Otto Waalkes, Sasha, Roger Cicero, Tim Bendzko, Lothar Kosse, Joy Denalane and many more.